<Hitoshina>Amethyst 108 bracelet

The bracelet made from high quality amethyst. These tiny and beautiful beads make your wrist looks very elegant. This special limited item was made by Japanese master craftsman. Add to this, these amethysts were polished in Kofu of Japan that is famous of keeping top revel skill about the processing gemstone.
Only now, all purchasers can get olivine-ish blue cut glass bracelets for free gift.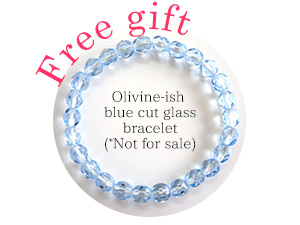 *Comes with original box.
*Japan duty free price.
*You might have to pay customs duty and VAT of your country when you receive the product.
Free shipping
Only 1 left
Availability: In stock
Additional Info
Additional Info
Product Story

This is the very height quality 108 beads bracelet made from amethyst. These beads are shaped in Kofu of Japan. Kofu is famous as one of the great gemstone processing place of the world. In particular, we used just only 2~3A grade amethysts of them for this product.

The bead diameter is only 3mm. It needs high technology to make these beads. There are 108 main beads in this product and the number has great beautiful meaning at Buddhist world.

Amethyst is also birthstone for one born in February. It will be the best gift for yourself or your loved ones.

Diameter of the beads
main beads: about 3mm / mother beads: about 6mm / 3mm (4 marker beads)
Inside Circumference
about 16cm
Materials for main beads
Amethyst
Materials for attachments
No
Other materials
elastic polyurethane thread
Caution

-Actual colors may be different from ones in the photo.

-Nenju should not come into contact with water (due to the fact that the dye on the beads will rub off.)

-Please do not give nenju a strong shock.
Reviews